The Film
The residents of Turkey Creek are descendants of emancipated slaves who settled on the Mississippi Gulf Coast in the 1860s. They have been stewards of the creek's rich wetland habitat for generations, and have farmed, fished, hunted, and been baptized along its banks. Today, Turkey Creek is surrounded by the sprawling city of Gulfport, which annexed the community during a casino-fueled development boom in the 1990s. When the historic African American cemetery is bulldozed for commercial development, prodigal son Derrick Evans returns home to help his community fight for its life.
Come Hell or High Water: The Battle for Turkey Creek follows Derrick Evans and his allies from front porch meetings and church revivals all the way to the U.S. Congress. They build alliances with national environmental and civil rights groups and defeat a mayor who calls them "dumb bastards" for blocking a major development that would destroy hundreds of acres of wetlands. But just when their years of struggle are about to pay off, Hurricane Katrina devastates Turkey Creek, and our protagonists face the unraveling of their hard-earned victory.
Derrick travels cross-country in a FEMA trailer to advocate for their cause and ultimately the Environmental Protection Agency steps in to force the state of Mississippi to protect the watershed. Their coalition is put to the ultimate test when the BP oil disaster threatens Turkey Creek's tidal estuary and the future of the entire region.
The Filmmakers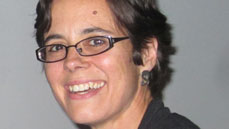 Leah Mahan

Producer

Jane Greenberg

Co-Producer